What to Look For in a Slitter Knife Supplier?
PUBLISH DATE:2023-08-28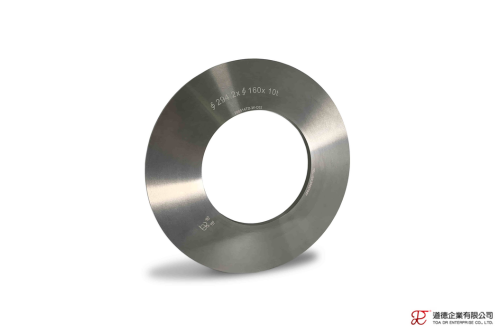 A slitter knife is a manual machine employed to cut paper, fabric, or plastic. This tool is also known as a wedge-slitting blade, perforator, or paper slicer.
The correct maintenance and care for slitter blades boost the production outcome and standard of slitting procedures, whether it is a laminate, paper, vinyl, or other industry.
While selecting an industrial slitter knife supplier that sells slitter knives, it is crucial to do business with one that showcases professional expertise and insight to bring suggestions for the improvement of cut quality and blade practicality.
Ahead, you will learn how to pick a manufacturer that meets the preferences and requirements of your business. Let's get started.
While on the hunt for an upscale industrial slitter knife supplier that specializes in excellent knives, it is crucial to know their services.
The best industrial knife manufacturers will provide varying services, such as fixings and slitter blade sharpening. Not only this, they will feature an inventory full of both stock and bespoke solutions.

1. Slitter Knife Sharpening
Sharp slitter blades not only improve the standard and manufacturing outcome of the cutting procedures, but they also boost the lifetime and decrease the need to purchase another one.
Whenever an expert precision knife sharpening service sharpens a slitter blade, it restores to brand-new condition.
After the sharpening, the blade will be equipped to tackle the toughest materials in the industry - with only a mere percentage of the price of buying new circular slitter blades.
You just have to deliver your old, worn-out, dull-slitting blade to a professional knife sharpener who will accurately bring it to life. In order to achieve the most out of a sharpened slitter blade, practice a maintenance routine for the knives in your business.
Does your business include an uninterrupted flow of slitting procedures? Depending on the operation time, a maintenance routine might be the most useful to follow.
A few slitting structures demand the knives be simultaneously sharpened in order to guarantee the accuracy, balance, and efficiency of the slitting procedure.
Moreover, the slitting machine might demand minimal outer diameter grinds to ensure they fit inside the machine. An industrial slitter knife supplier will determine that your blades are sharpened to the correct strength of your machine without erasing the excess material.
2. Slitter Knife Rebuilds and Fixings
In order to improve the lifetime of shear slitting blades and guarantee high-quality cuts, shear knife holders demand wholesome maintenance and care.
An industrial slitter knife manufacturer with blade rebuilds and fixings skills can analyze, test, fix, certify, and rebuild shear slitting knife holders to guarantee maximum performance from the blades and a slitting machine without the requirement for hiring a new knife fixing service.
How to Ensure That Your Slitting Knife Holder Demands Fixing
In order to ensure that your slitting knife holder demands maintenance, reach out to an industrial knife manufacturer for troubleshooting the slitting machine. Low cuts are a prominent sign of a low-quality slitter knife holder.
Since inferior cuts can result from a malfunctioned knife holder, not running at the correct line speed, or defective slitting blades, troubleshooting with an industrial knife manufacturer will bring the actual culprit to light.
A Thriving Inventory of Bespoke and Stock Solutions
Featuring a full variety of stock knife solutions is vital to comprehend the criteria for testing, certification procedure for materials, and the most appropriate items for different usages.
The top knife manufacturers will present blades that are made of certified materials to meet the quality of execution, standard, and longevity.
Industrial cutting usages demand materials that follow the strict tolerance for slitting. Whenever cutting procedures require a change, whether because of brand-new machines, manufacturing preferences, or years of usage, a qualified knife supplier will offer top-tier recommendations that suitably meet the aims of your business. In some cases, this might mean using a bespoke offering.
Industrial knife suppliers boasting a wide inventory of bespoke and stock solutions make it simple to hunt for the product that best suits your business's manufacturing and budget preferences.
While looking out for a slitting knife supplier, it is advised to collaborate with a manufacturer that boasts a variety of on-site services, such as fixings, blade grinding and sharpening, and bespoke and stock solutions both.
This will automatically decrease the need to depend on various manufacturers and offer your business one-stop, straightforward access to industrial knife experts, services, suggestions, and items.
Looking for the Best Slitter Industrial Knife Supplier?
It is advised to collaborate with a local supplier. Here are the perks of doing so:
Relying on a bulk supplier will bring you a cheap labor cost and quick delivery.
While selecting a local supplier, the slitter knife can be bought at an affordable cost and can satisfy the demands of the local market.
The manufacturing accomplished by a traditional method with low cost of labor and manual processing will be made as per the needs and preferences of each particular industry. Since only manual processing is required, upscale offerings are also available.
However, keep in mind that the only disadvantage is that the standard of the Chinese offerings will be lower than the ones sold by the local suppliers.
In order to gauge the quality of the product before buying, visit their factory and view the item yourself. Alternatively, you can request a third party to visit your place. Remember that you can also determine the quality of the parts of the machine. Lastly, don't predict the quality just by appearance.

Final Words
To conclude, the above-mentioned details should be remembered before trusting a slitter knife supplier. This will assist you with making the right decision for your business.
If you have any questions about choosing the slitter knives, please feel free to contact us.